About • Blog • Book Now • Calendar • D2L • Glossary • Lending Library • News • Portfolio • Templates • Testimonials • Wellness
You can reach me as follows: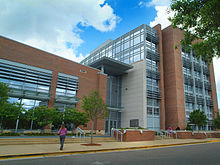 .
My Schedule
I am available for meetings Tuesdays, Wednesdays, and Thursdays. I work on projects all day Mondays and Fridays.
My Location
EC 1207B (Health Sciences building): 987 St. Sebastian Way, Augusta, GA, 30912

My office (EC 1207B) is on the first floor of the Health Sciences building, nearby the interior stairs and across from the 1204 lecture hall.
Non-reserved parking near the Health Sciences building is hard to come by. Two options are:

the coin/meter parking by Greenblatt Library (between buildings BF and AB on the map below)
or the stadium (between RA Dent Blvd and Laney Walker Blvd, across from the AN building on the map below).