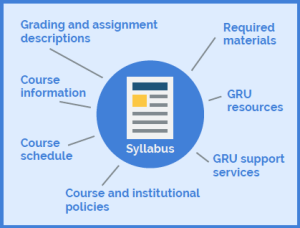 Master Syllabus Template Overview
For a guided tour of the template, please refer to this narrated video. To enable/disable the subtitles, click the CC symbol (found at the bottom right corner of the screen after you start playing the video).


Video: Syllabus Template Overview (MOV, 7'28")
The Template
You can download the latest version of the template here:
How the GRU Master Syllabus Template Came About
In the summer of 2014, there was a need to help new faculty design syllabi. In collaboration with Dr. Deborah Richardson (Director of the Office of Faculty Development and Teaching Excellence and GRU policy expert), I created the first master syllabus template. I piloted that template in Fall 2014 with Dr. Debra Beazley – whose fantastic enthusiasm and positive attitude continue to inspire me – and have been updating the template ever since.
The template is based on research (especially sources from the Quality Matters research library), my two decades of cumulative teaching and design experience, and feedback from faculty users. The template is meant to offer a consistent look throughout all GRU courses and, most importantly, to save faculty time while ensuring that all essential elements are present. That being said, our institution does not mandate use of this format. Feel free to use what you find most helpful from the template and do not hesitate to contact me if you need a customization.
Spring 2016 Update
In February 2016, I have updated both syllabus templates in light of the renaming from Georgia Regents University to Augusta University. At that point in time, some systems had transitioned to an "augusta.edu" domains and some had not. A further update will be needed.
Ideas for Using the Template
In a post I made in December, 2014, I suggested ways to use the syllabus whether you create your syllabus from scratch or update an existing syllabus.
How 'bout you?
I'd love to hear from you; please leave a comment with your thoughts on the master syllabus template and anything else you'd like me to discuss relating to syllabi.