Advantages
I use a reservation system provided by Acuity Scheduling (click here to access it). This system knows my schedule in real time and allows you to tailor the appointment to your needs, benefit from features beyond what Outlook offers, and, most importantly, save us time otherwise spent in back-and-forth email exchanges.
Use
The Acuity Scheduling system is very easy to use and it will guide you through a choice of day, time, and location for our meeting. It will also ask for your name, phone, and email. When you complete the booking, you'll get to a screen that looks like the one below, confirming the meeting details.
Advanced Uses
Here are some additional features to consider (highlighted in green):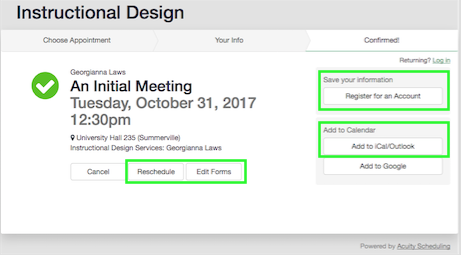 From the top right, you can choose to save your contact information to expedite future reservations with me.
From the bottom right, you can choose to send our appointment to your Augusta University Outlook calendar, so it can remain up to date.
From the bottom left, you can easily reschedule the meeting or edit the location. I'll be notified by email, as will you.
Reminders
You can expect two automatic email reminders from Acuity Scheduling: one 24 hour prior to our meeting and the other 1 hour prior to our meeting. After our meeting, the system will send you an invite to leave anonymous feedback directly to me, if you are so inclined, helping me understand how to make improvements.