As we get ready to celebrate Thanksgiving, I hope you find some inspiration in the eBook that Allen Interactions put together, titled "14 Tips for Preparing an e-Learning Feast". In this eBook, Ethan Edwards, the chief instructional strategist at Allen Interactions, draws parallels between preparing an eLearning course and preparing a feast.
You can download this book for free at http://learn.alleninteractions.com/14-tips-for-preparing-an-elearning-feast or by clicking the image below.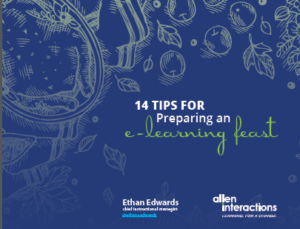 In what follows, I am going to add some commentary of my own as to what factors lead to a successful eLearning course.
Plan far in advance
We are very used to just-in-time services for everything from how we shop to the way we communicate. When it comes to creating an eLearning course, which has so many moving parts and involves an entire team, it is wise to start early, have a clear plan, and a contingency plan for when things go wrong. A good way to start your course design/development is by scheduling an initial meeting with me via my scheduling page.
Know your audience
Are your students primarily millennials or are they a generational mix? Are they fresh out of high school or are they adults returning to school? Do they have families? Do they have jobs? It is very important to know who your students are and to design your eLearning course in such a way as to set those students up for success.
Inviting students
If you are just establishing a new, elective eLearning course, you'll probably want to advertise it in some shape or form. Consider coordinating with faculty from prerequisite courses and making a brief guest appearance, giving those students a potential glimpse into your course and explaining to them why they may benefit from it. Once students get to your course, make sure it is well organized and leads to a positive first impression.
Make the turkey (instruction) just the right size
Research shows that our short-term memory can only hold about 7 facts and that the average attention span is 3-5 minutes. As you create your eLearning course, long lectures may not be the best way to go. Consider instead creating mini lessons built around specific skills and/or information that students can either "consume" in a recommended sequence or can access as needed when they complete learning activities.
Don't be surprised when nobody eats the Brussels sprouts
You probably know what the "Brussel sprouts" of your course are. Consider how you can make them more palatable. Turn outcomes into a challenge, as the eBook suggests. Give real examples in your instruction, always being mindful of what could make the instruction more motivating, interesting, and unforgettable. Turn assignments into real problems to be solved in real contexts.
Don't embellish unnecessarily
I am a big proponent of giving students no more and no less than what they need to be able to perform the learning outcomes. Challenge yourself to cut out any fluff (put it aside as further readings) and concentrate instruction, practice, and production on the essentials.
Plan to use the leftovers
When so much time and effort goes into producing an learning element (be it an image, a mini lesson, an assignment, etc.), you want to make use of it as many times as possible. Be mindful, therefore, of things that can date it, from literal dates (due dates), to references that are only available for a limited time (think of all the Vine videos) or only make sense at a specific point in time (a GRU logo/link).
I hope you found this helpful and I wish you and your family a happy Thanksgiving!