Dear faculty,
As 2017 begins to unfold, I want to remind you of the four main ways in which you can rely on me for instructional-design assistance: curriculum, course design, course post-production in D2L, and course teaching.
But before I do that, I'd like to take a moment to acknowledge the tremendous job you are doing educating today's students for tomorrow's health professions! I know this is a very demanding job — not only from a pedagogical and subject-matter standpoint, but also given the challenges that globalization and rapid growth in scientific discovery & technology bring.
Thank you for your leadership and excellence in teaching. You are enriching the lives our students, helping them achieve their educational and professional dreams, meeting the needs of a vital workforce, helping the economy grow, contributing to our nation's health and, to bring it back home, helping our institution confidently advance toward our vision of being a top-tier university and a destination of choice for education, heath care, discovery, creativity and innovation.
I am proud to be part of Augusta University and to have the opportunity to assist you in a number of ways. Here is an overview of my services, followed by a more in-depth look at each of the four categories. Click on the image to enlarge it.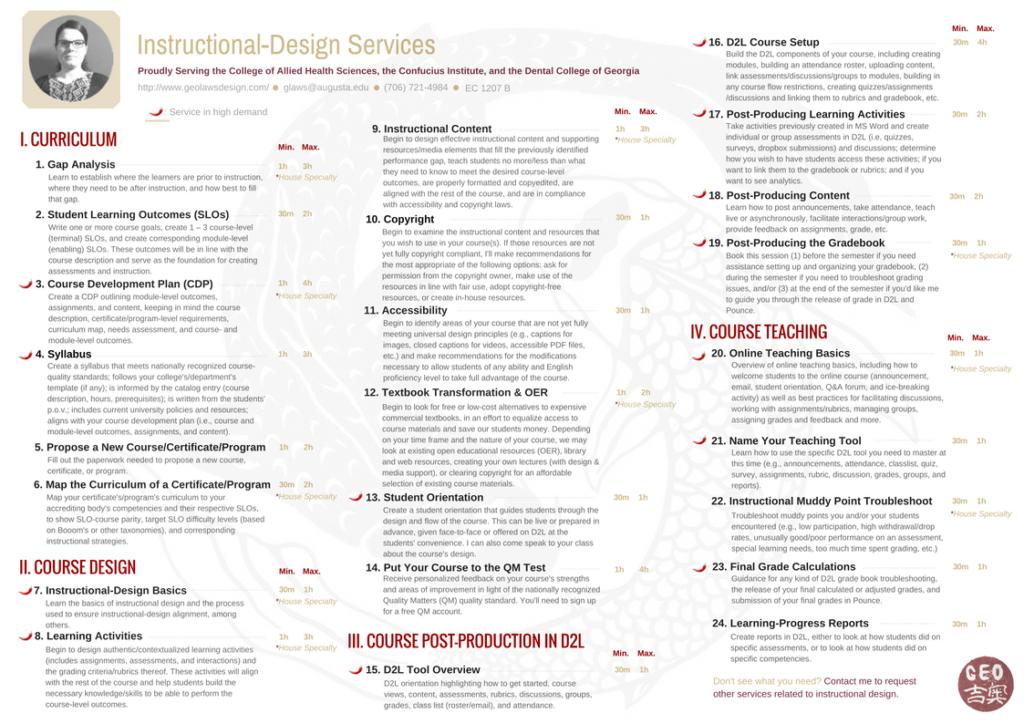 A convenient way to schedule time for us to work on these services is to use my top-of-the line online scheduling system that lets you decide what we work on and for how long, when/where/how we meet, and what we'll achieve by the end of the meeting. If you would like to receive text-message notifications, be sure to share your cell phone number while you fill out the brief faculty intake form (your phone carrier's standard text-message rates apply). This system also allows you to send our appointment to your Outlook or iCalendar.
Click + next to the categories below to expand them and x to collapse them.
For Your Curriculum Needs
For Your Course Design Needs
For Your Course Post-Production in D2L Needs
For Your Course Teaching Needs
I hope you find these services to be helpful. If you do not see the service that you need, reach out to me and I'll do my best to assist you or find the best person to assist you.