My esteemed colleague, Dr. Amanada Barefield, and I have just given a presentation at the 2016 National Distance Learning Week conference (#2016NDLW) organized by the University of South Carolina at Aiken.
In this presentation, we spoke about our use of D2L to capture competency data for the Health Information Administration program with a view to its accreditation based on the newly instituted doubling of competencies.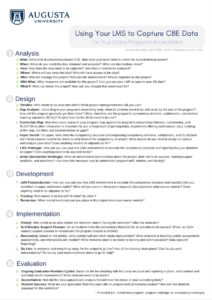 We are now in the second half of the first pilot, teaching both the old 49-competency curriculum and the new 102-competency curriculum through the amazing efforts of our core faculty — Ms. Lori Prince and Dr. Amanda Barefield — as well as a handful of other wonderful faculty members.
If you are interested in the stages of the project, please refer to our handout, where we describe the evolution of the project in terms of the ADDIE model: analyze, design, develop, implement, and evaluate. Also feel free to ask us questions about this endeavor at any time.
This project has been presented to several state and national audiences. We'll continue to share information as the project unfolds.